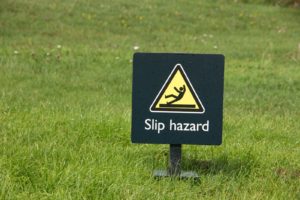 Three of my favorite words to hear are  – summary judgment granted!  I am happy to report those words were heard again in a case out of DuPage County, Illinois.
The plaintiff was entering a grocery store and after taking a few steps inside he claims he slipped and fell in a very large puddle of a thick, clear substance.  He did not know how long the substance was present and he did not know the source of the substance.  After the fall, an employee approached the plaintiff from behind and offered assistance.
That employee testified he saw nothing on the floor after the fall, but for purposes of the motion, the court accepted as true that a large puddle existed and caused the fall.  The employee admitted the store did not have any formal inspection policies but based on the location of the incident and the time of day, he testified that employees would have walked by and inspected the area three times an hour, or every 20 minutes.  Based on that uncontested testimony, the court granted summary judgment for the store.
I recently provided in-house training at an insurance company with tips on defending premises liability claims in situations where formal inspections both do and do not exist.  This was a great example of a case where the lack of formal inspections did not inhibit the defense because the employees' general practices were sufficient to prove a lack of notice.