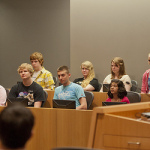 Earlier this week I posted about IL Senate Bill 3075 and how if signed, it would turn all civil jury trials into 6-person jury trials, with no right to request a 12-person jury.
It looks like Christmas came early for us defense folk but unfortunately, we were all given coal.  Today Illinois Governor Pat Quinn signed Senate Bill 3075 into law.  It will take effect June 1, 2015.
At the end of 2015 I will come back to this issue, once we see how things go under the new, and not improved, law.
A complete copy of the new law can be found here:  http://www.ilga.gov/legislation/publicacts/fulltext.asp?Name=098-1132