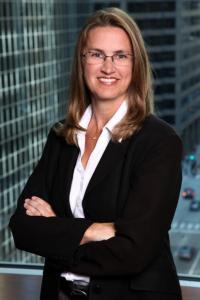 I represent all sizes of companies within the retail, restaurant and hospitality industry from international restaurant changes to the local bar on the corner.  I also represent security companies, property management companies and fitness companies, handling all types of premises liability claims and litigation. I works closely with my clients to resolve matters in a cost effective manner. The cases I handle are generally within the areas of Premises Liability, Dramshop Claims, General Tort Litigation, Security Law, Product Liability, Wrongful Death, Transportation Litigation, Property Subrogation and Appeals.
As a partner at the law firm of Bodell Bove LLC in Chicago, IL, I have extensive experience handling business disputes before suit, during discovery and motion practice, using all forms of alternative dispute resolution, as well as through trial and appeal. In addition to handling litigation, I assist clients with vendor contracts, employer's liability issues and workers' compensation lien recoveries. I also provide in-house counseling and training to retail, restaurant and hospitality clients regarding conceal-carry liability, premises liability issues, motion practice, claims handling and expert retention.
I am a graduate of DePaul University College of Law, earning a J.D./M.B.A. joint degree (1997) and a graduate of Illinois State University, with a double major in International Business and Marketing (B.A, 1993). My educational background gives me a unique understanding of the issues facing my corporate clients and aides me in defending commercial litigation matters.
I am a member of the Illinois Bar and Federal Trial Bar as well as being admitted to practice before the Seventh Circuit Court of Appeals, the U.S. District Court for the Northern and Central District of Illinois and the U.S. District Court for the Western District of Wisconsin.
I am an active member of NRRDA, CLM and DRI, with leadership roles in the Retail & Hospitality Committee, including being the vice-chair of the 2018 DRI Retail & Hospitality Litigation Seminar.
In addition to writing this blog, over the years I have authored multiple articles:
"Managing Negligent Security Risks: Coping With Imperfection" – PropertyCasualty360.com, Sept. 2020
"Today We Mourn, Tomorrow We Fight – Tribute to RBG" – DRI – The Voice, Sept. 2020
"Violent Criminal Attacks – Preparation, Response & Action" – DRI In-House Quarterly, Winter 2019
"Dram-Shop Laws and Beyond" – DRI For The Defense, July, 2019
"Going On The Defensive – MGM takes proactive move to determine liability for Las Vegas mass shooting – but at what cost to its reputation?" – CLM Magazine, August, 2018
"The Prejudicial Impact of Physician Liens on Personal Injury Litigation" – DRI In-House Defense Quarter, Spring 2018
"Before and After a Violent Attack – How to be prepared and respond accordingly" – CLM Magazine, January, 2018
"Formal Inspection Policies – Are They Worth It?" – DRI In-House Defense Quarterly, Oct. 2017
"Are Formal Floor Inspections Worth It?" – CLM Magazine, Feb. 27, 2017
"The Mediation Submission – Your Pretrial Closing Argument" – DRI – For The Defense Magazine, May 2015
"Concealed Carry Laws & Liability" – Today's General Counsel Magazine, Feb. 2015
"To Post or Not to Post – The Impact of No-Gun Signs" – CLM Claims Management Magazine, Jan. 2015
"The Danger of Security Manuals: How to Prevent Liability Instead of Create It" – IDC Quarterly – Magazine of the Illinois Assoc. of Defense Trial Counsel, Dec. 2014
"How to Scrub Personal-Injury Fraud Clean" – Chicago Lawyer Magazine, Nov. 1, 2014
"Don't Let your Manual Be A Liability: The Danger of Security" – DRI In-House Quarterly, Aug. 2014
2004 through 2014, columnist for the IDC Quarterly, the magazine of the Illinois Association of Defense Trial Counsel, Recent Decisions column
"What is Deliberate Indifference?" and "Medical Negligence and Deliberate Indifference – What is the Difference?"- CorrectCare in 2000.
I have also given presentations and training on many of the above topics. I have spoken on security manual drafting and security staff hiring at the DRI Retail & Hospitality Seminar and I spoke about concealed and open carry issues facing the retail and restaurant industries at the Restaurant Loss Prevention & Security Association's Annual Conference.  Myself and two others provided an intensive retail and hospitality security seminar to professionals within the industry.  I was also one of four presenters at a conference regarding data breach issues.  Since 2014 I have also been traveling the country providing in-house CLE presentations regarding concealed and open carry laws, policy development and implementation.
I am AV® Preeminent 5.0 out of 5 Peer Review Rated by Martindale-Hubbell. Martindale-Hubbell is the facilitator of a peer review rating process. Ratings reflect the anonymous opinions of members of the bar and the judiciary. Martindale-Hubbell® Peer Review Ratings™ fall into two categories – legal ability and general ethical standards.
For more information about my background and practice, visit my LinkedIn page (http://www.linkedin.com/pub/stacy-d-fulco/2/8a7/2a1/) or firm website at www.bodellbove.com.  For a summary of noteworthy cases I have handled, go to "Case Studies" listed above.
To speak with me directly, please contact me at #630/382-4804 or [email protected].